A UCSF NIH funded study on mindfulness practices for older individuals living with HIV.



Aging with HIV presents many challenges, including increased risk for cognitive impairment.The purpose of this study is to examine the benefits of Mindfulness Based Stress Reduction for older HIV-infected individuals experiencing cognitive symptoms such as difficulty with attention, learning or memory, or trouble with problem solving or other types of thinking and mental health.

See 'Study Details' for more information about the study and participation.
Powered by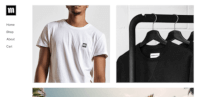 Create your own unique website with customizable templates.